Benefits of MobiLine
Here are examples of how consumers and businesses can use MobiLine to enhance their lives or improve business performance.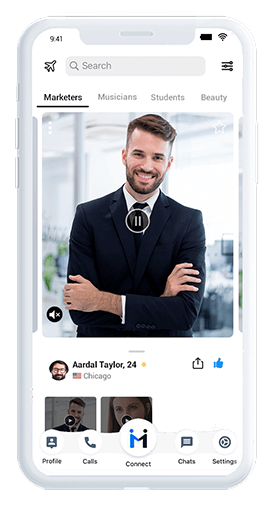 Consumers
Family, Friends, & Colleagues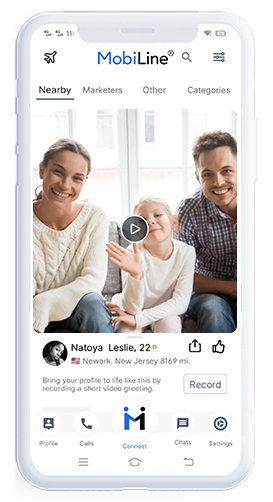 Personalize your calls with the people closest to you.
Chat with your friends and family. Join or create new groups on MobiLine.
Share your best videos on Facebook, Twitter, WhatsApp, and more.
Explore Make new friends in the MobiLine community in your area or anywhere else in the world.
Slam spam If you don't see who's calling, you can decide not to answer.
Download MobiLine Start to personalize your calls now.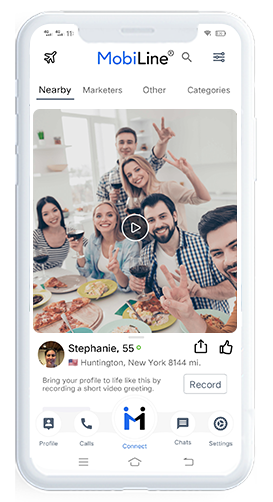 Business
Optimize your corporate communication within teams, among teams, departments, divisions, with customers and prospects who are in the MobiLine community.
Showcase your products or services to other MobiLine by recording a video. You can also record a video preview of up 15 seconds before you make a call to a customer or prospect..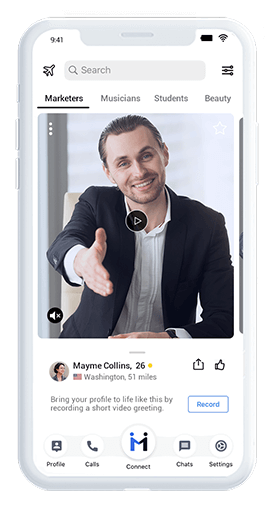 Record business greetings Choose how to present yourself, your company, and your offer to your current clients and potential clients.
Preview incoming video calls See your clients and prospects when they call back so you know to answer.
Live Connections MobiLine is all about real people and live connections. Communicating with your clients and meeting with new prospects has been more inviting and rewarding.
Personalize how you connect with your coworkers and friends, too.
Explore Now, you can explore the MobiLine community to look for new customers in your area, across the US, and anywhere in the world.
No spam calls Connect with real users from your area, across the US, and around the world.
Share on social Share your success stories or videos of your customer testimonials on Facebook, Instagram, Twitter, WhatsApp, and others.
Chat Enjoy one-on-one chats with your clients, prospects, colleagues, and friends.
Secure video calling When you start a call, a secure network channel is established and your video and voice are protected with state-of-the-art end to end encryption.
Build Your brand Connecting with your clients and prospects to showcase your products, services, and offers on a regular basis is easier and more profitable than ever with MobiLine.