Record Your Video Preview
Gives the caller the unique ability to easily record a video preview of up to 15 seconds
The person you're calling can see you and hear what the call is about, and you can see the person calling you and hear what the call is about. Then the person receiving the call can decide whether or not to pick up.
The caller can't see the person being called until the call is answered. So privacy is maintained.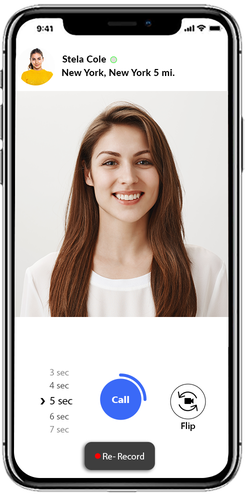 Benefits for Individuals
Personalizes every call with your family, friends, and coworkers. Allows them to see a familiar face and hear a familiar voice before they answer the phone.
When the call is important, you can alert the people you're calling, so they know to answer, not let the call go to voicemail.
Filters Robo-Call If you don't see who the caller is, you know the caller isn't in your MobiLine network.
Enables Singles to meet easily and more securely than ever. Record your video greeting and start connecting in real time. If you plan to make an audio greeting, you can upload a photo.
Benefits for Businesses
Transforms business communication between team members, teams, departments, and divisions. Dramatically improves collaboration and productivity. Enables sales teams to warm up cold calls to customers who have MobiLine, too.
Enhances communication on social media and classified websites.
Revolutionizes dating apps because every member making a call can show who they are and prerecord what they want to talk about, and every person receiving a call can see who it is and hear what they want to talk about before answering. It's the start of improved meetings and the end of disappointing surprises.
To learn more about how MobiLine enhances the lives of consumers and improves business performance, click
here
.
Makes Video Calls Inviting
According to recent Google survey of online users 18 and older, 46% of US. adults never make a video call with their mobile phones because they feel it's intrusive and rude. Limiting video preview to 15 seconds or less makes your call more inviting.
Expands your Social Network
You can search thousands of potential friends in the MobiLine community. Even change your location and explore members around the world. Connect for casual conversations, find your soul mate, or discover business opportunities.
State-of-the-art Security
When you start a video or audio call, a secure network channel is established and your video and voice are protected with end-to-end encryption.
Slams SPAM
MobiLine eliminates spam calls within the MobiLine community, including robocalls and other  unwanted connections.
The face value of the videos eliminates fake profiles, so it saves you time and money.
Filtering spam is more important than ever. For example, there were more than 52 billion robocalls in 2021, up 11.8% over the estimated 45.9 billion robocalls in 2020. So it's critical to personalize your outbound calls and screen your inbound calls.
Record a video profile
Create an online video resume. It's a great new feature jobseekers, entrepreneurs, actors, musicians, singles, and others seeking career or personal advancement.