Main Features
Record your video greeting
You can record an unlimited number of video greetings and list them in convenient categories for friends or customers.
To introduce yourself to other MobiLine members, click on your Profile and create your greeting. If you have not already done so, grant the app permission to access your camera and microphone.
Now, choose a category in the MobiLine community where you want your video introduction to be found and assign hashtags within that category.
Record your video and, when you have it just the way you like it, click to publish it. It will appear in the category.
Since MobiLine users like to explore different categories, your video will be visible to all MobiLine community members who search by category, people, or hashtags.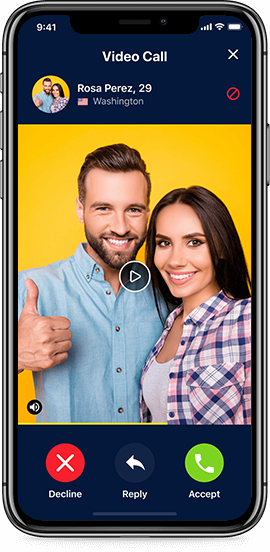 Meet New People and Prospects
Browse through thousands of video greetings. Share your video introduction to connect with the people you select.

Live Connections
MobiLine is all about making live connections with real people. Make new casual acquaintances, find love, or a new customer.

Upload your Contact List
It will make it easy for you to call your contacts.
Go to your device Settings > MobiLine> Enable contacts. This will grant the MobiLine app access to your contact list.

Chat
Just tap the chat icon and enjoy chats one-on-one or create group chats. Always be connected.

Invite your Friends, Family, and Colleagues
When they join MobiLine, you can all enjoy its many benefits.

Share on Social Media
Post your best videos on Facebook, Instagram, Twitter, TikTok, and more.

Connect Live Instantly
All members in the MobiLine community are real people.

Eliminate Spam
Only vetted MobiLine members can communicate through MobiLine. So there's no spam within the community. Zero robocalls and other unwanted connections.

Preview Incoming Video Calls
See who's calling and what the call is about before you answer.

Explore
Connect with new people in the MobiLine community near you from anywhere in the world. MobiLine provides video calling with unique categories and hashtags.

Audio Calls
You can also make Audio Calls when you want to. Just tap the icon.

Automatic Location Alerts
Since you grant MobiLine access to your location, MobiLine can alert you on your Timeline when another member is in your area.